I had planned to write this yesterday, but circumstances conspired to prevent that. So, that's the first thing to get done this morning1.
On my last day in Dublin, I was dragging my feet a little in the morning, and didn't make it down to breakfast before 9:30, when they stopped serving. I've only had breakfast at Kilronan House twice in my week's stay here, and once was very rushed so I just had cereal. The day I took my time, it was very nice, but the scheduling has just not worked out very well.
But I headed down to St. Stephen's Green, planning to start the day with a ride on the Hop On Hop Off bus, seeing as my ticket from the day before was still good. I stopped at the Marks & Spencer's on Grafton street to have a bacon roll and some juice, and then went and rode the bus tour right around the circuit.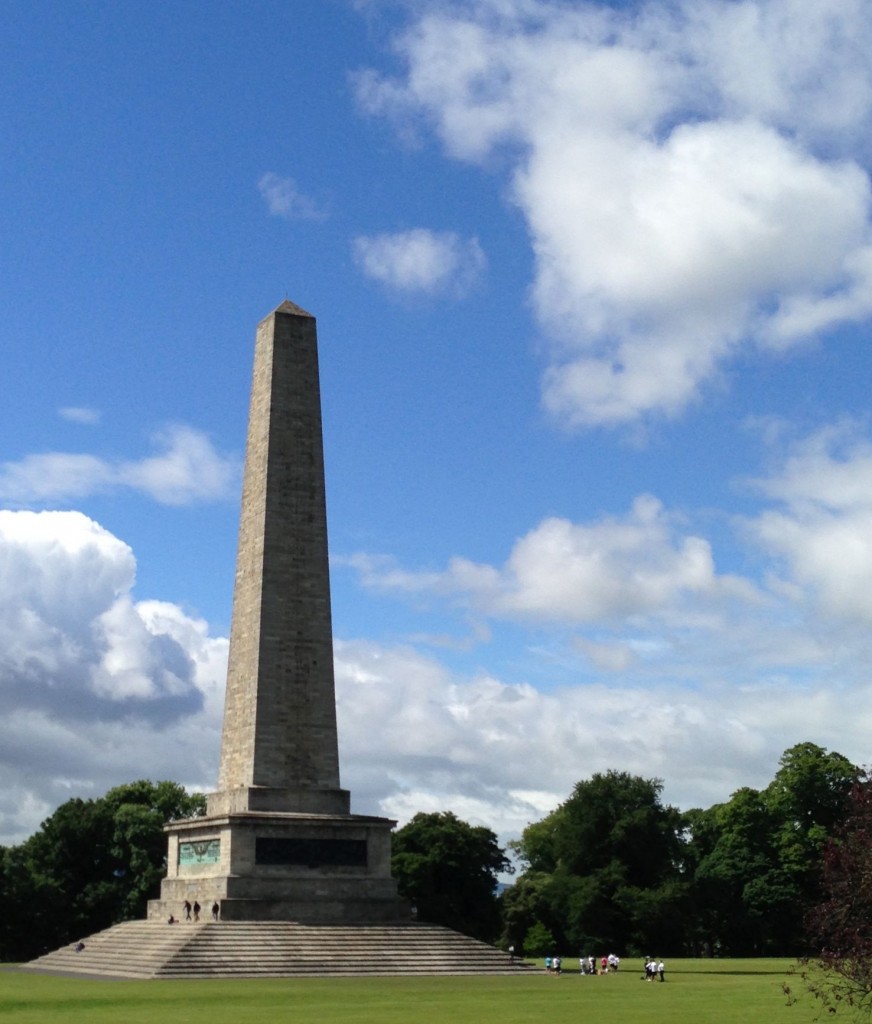 Again, Dublin Castle had no tours running, due to the official suites being occupied. I could have gone on to the grounds, but I had done that last trip, and it was the interior I really wanted to see. So I waited until Christchurch Cathedral before getting off.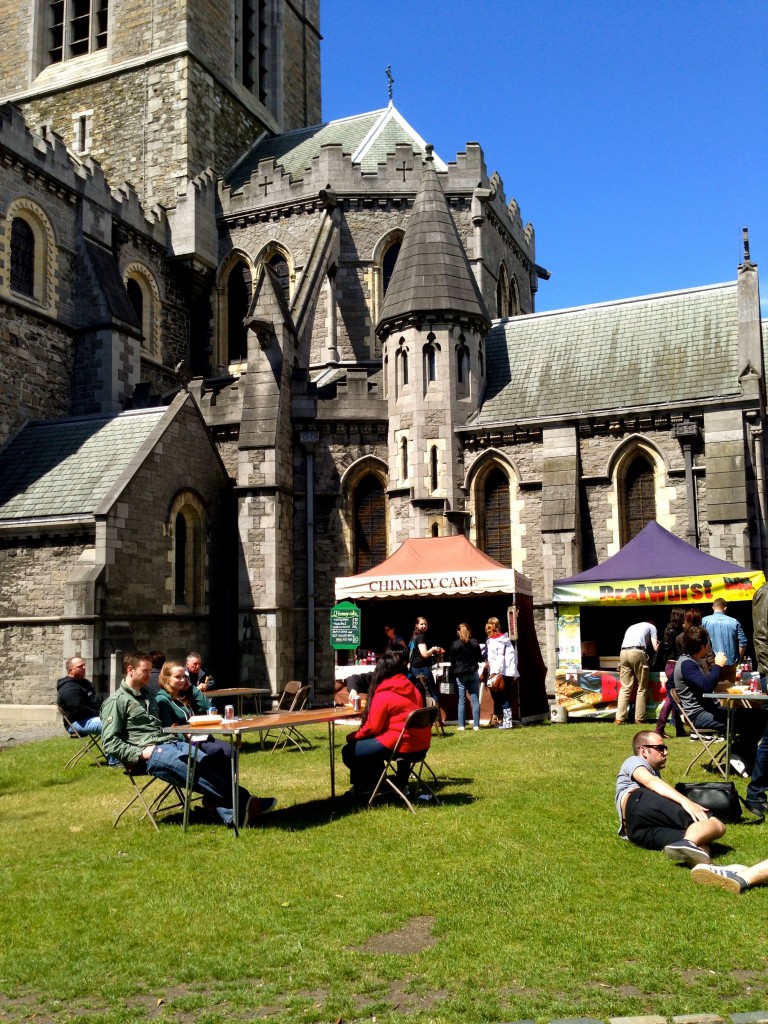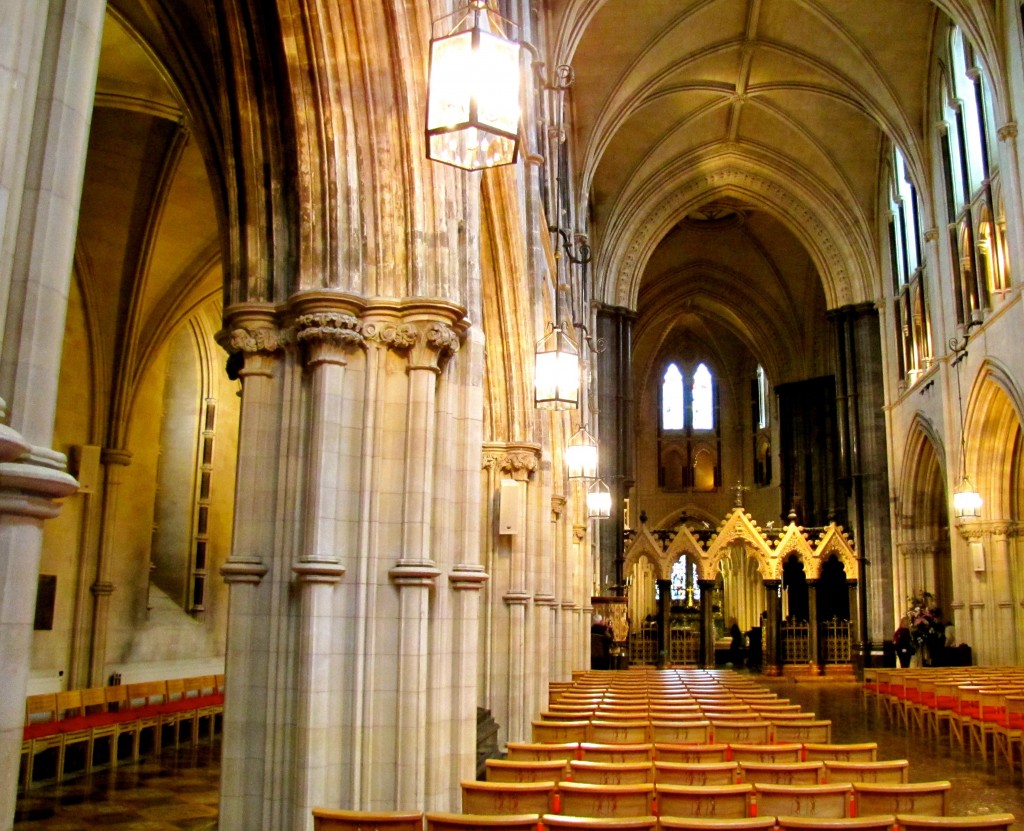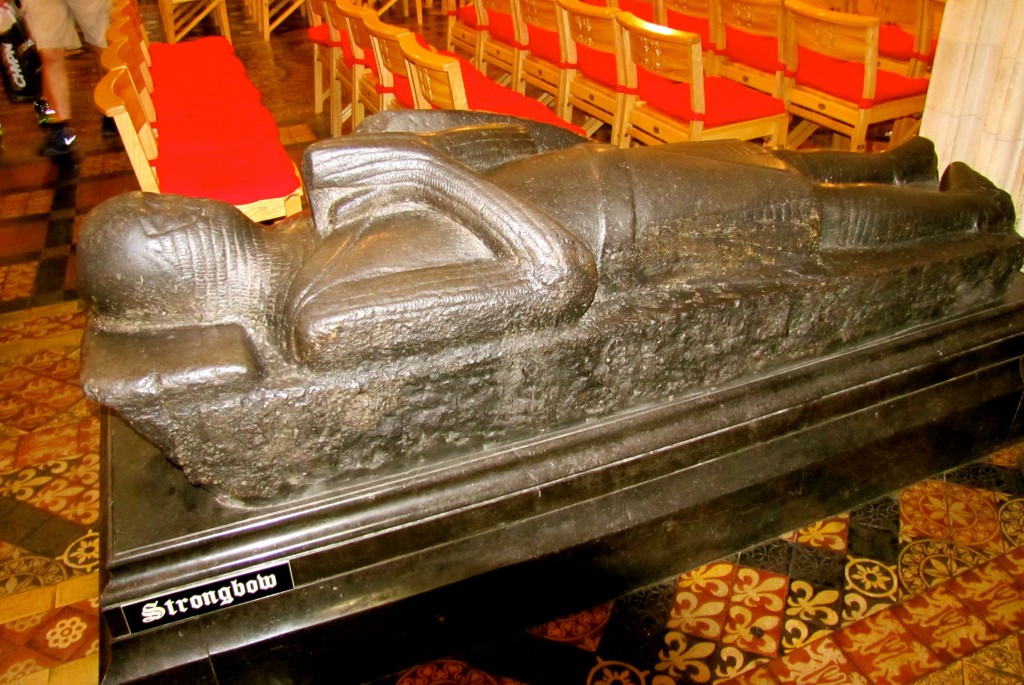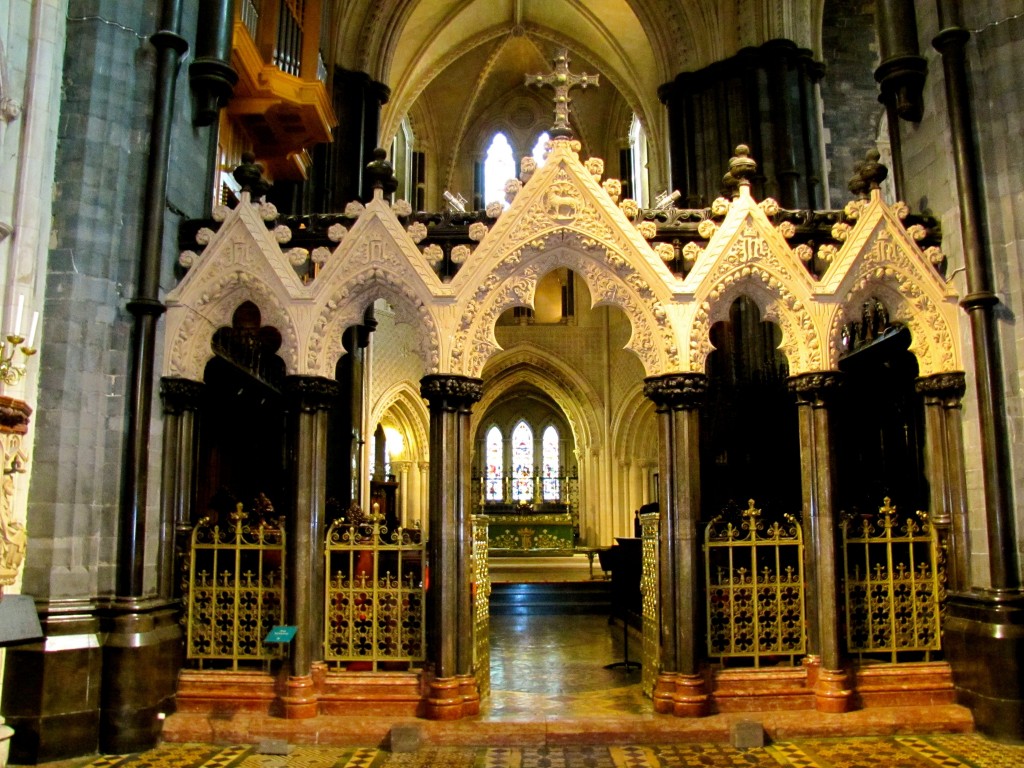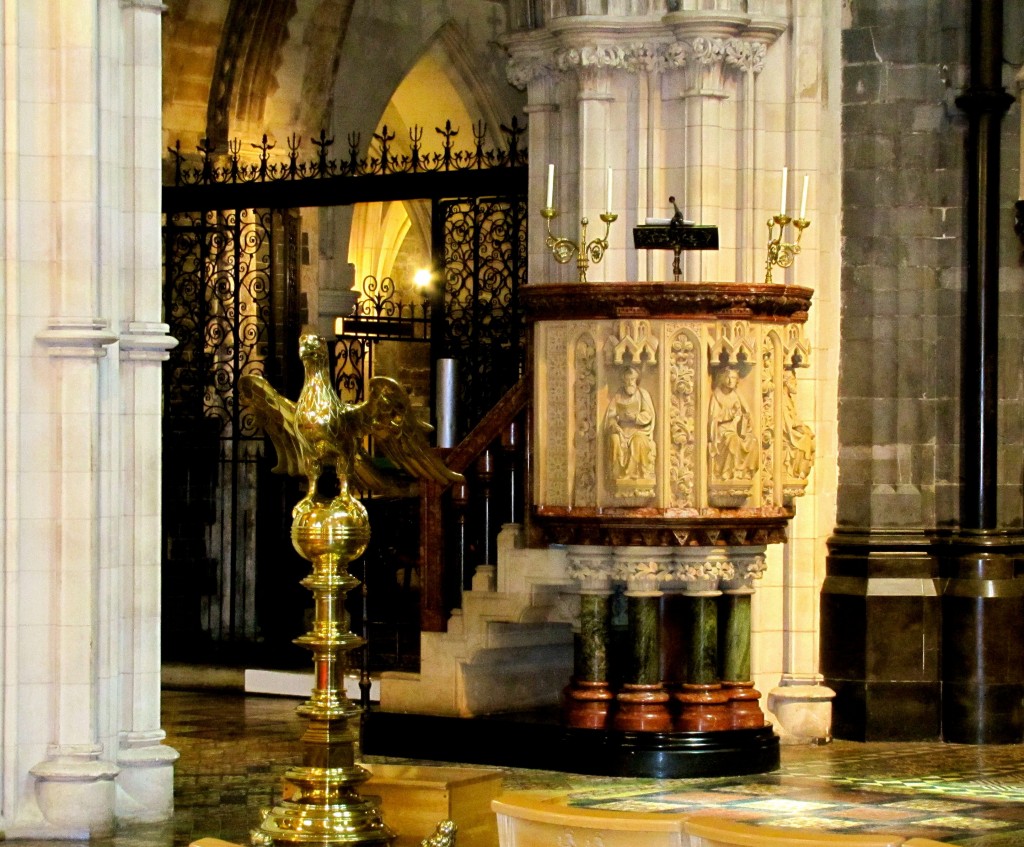 So, for an extra four euros, in addition to admission to Christchurch, you could get a tour of the bell tower and a chance to ring the bells. It meant more stairs2, but I really couldn't pass up the chance. The stairs were narrow, low, irregular spirals, as usual.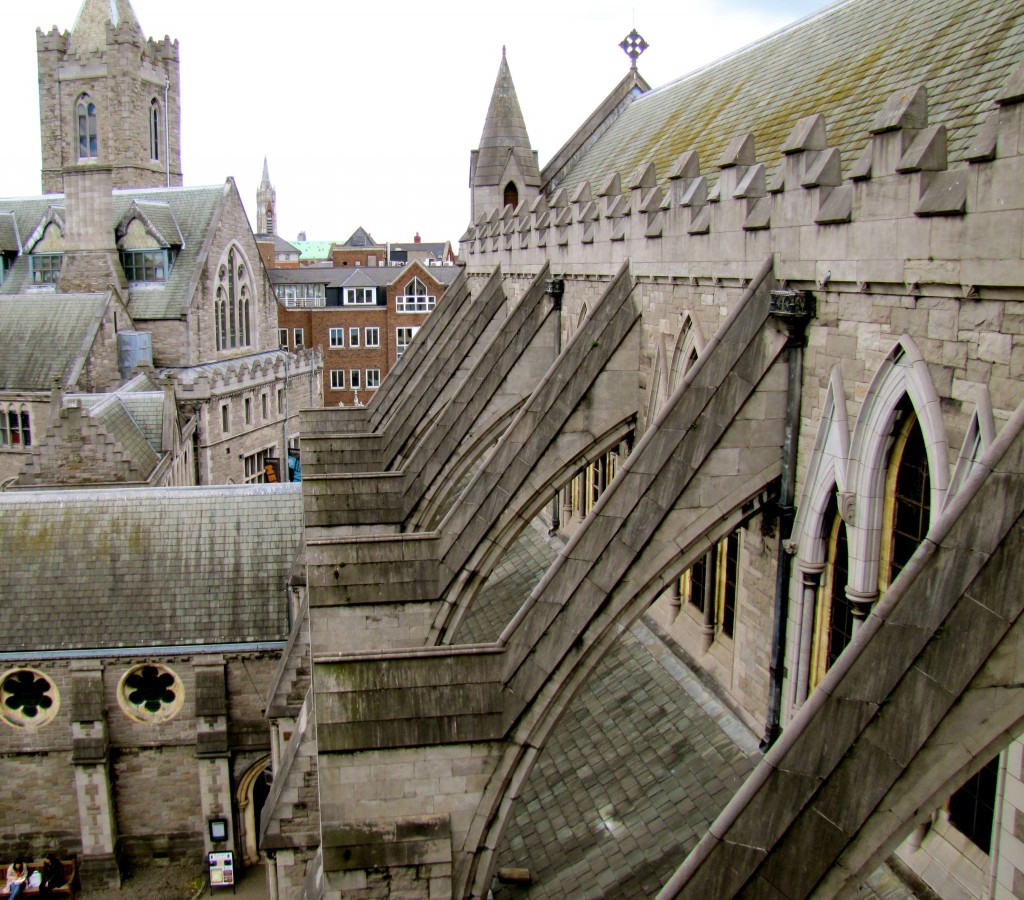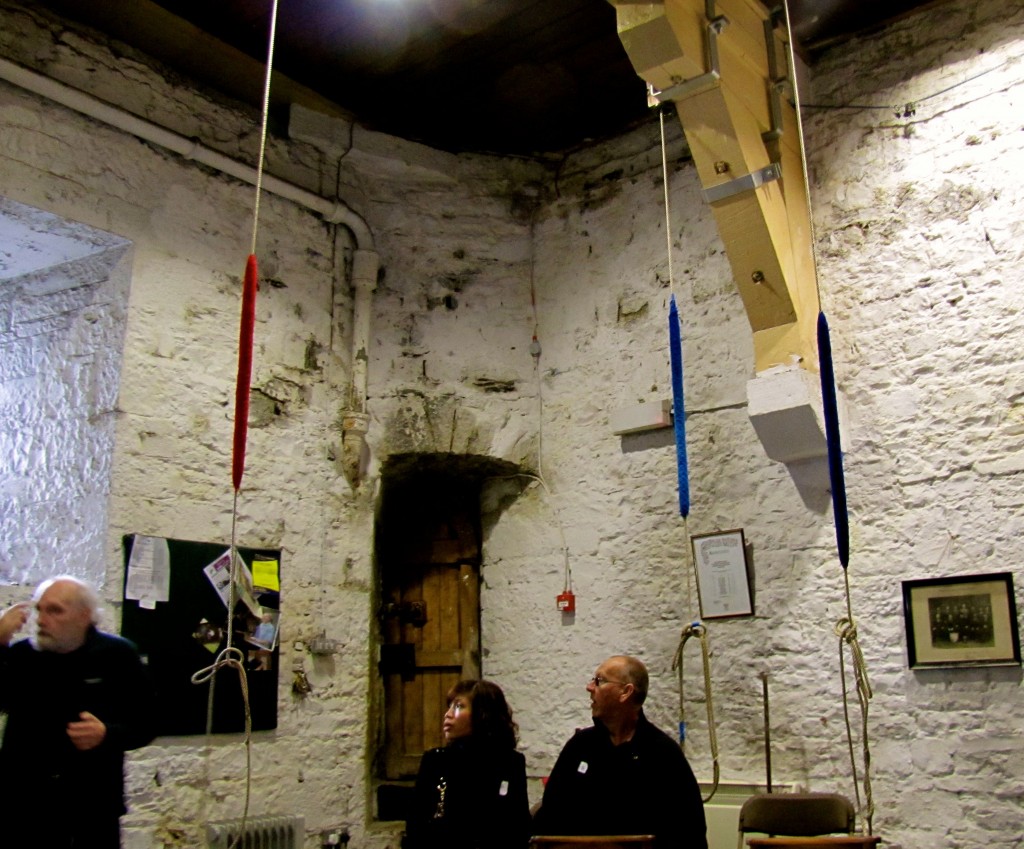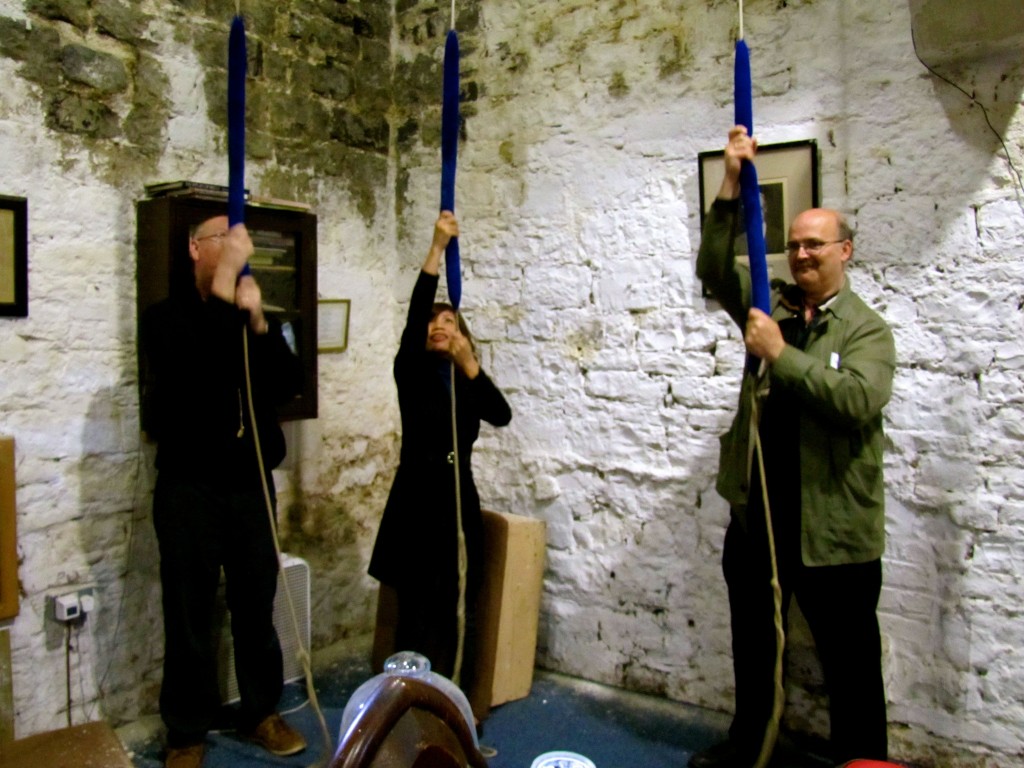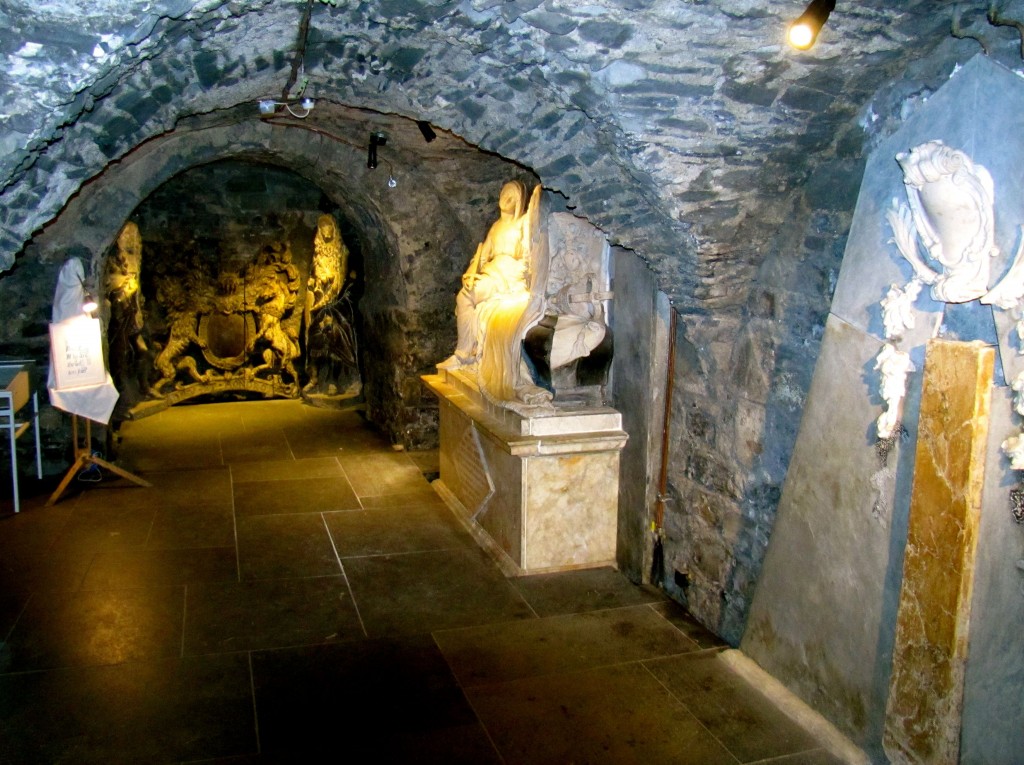 Now, a little more than a year ago, the heart of the patron saint of Dublin, St. Laurence O'Toole, was stolen from the cathedral. I wanted to find out what had happened with that, so I asked at the information desk. The heart has not been recovered at this time, and the police haven't made any progress on locating the thieves. Very unfortunate.
St. Patrick's Cathedral is just a few blocks down the hill from Christchurch, so I walked down there next.
I don't have a good picture of the whole interior; the place was just too full of people for that.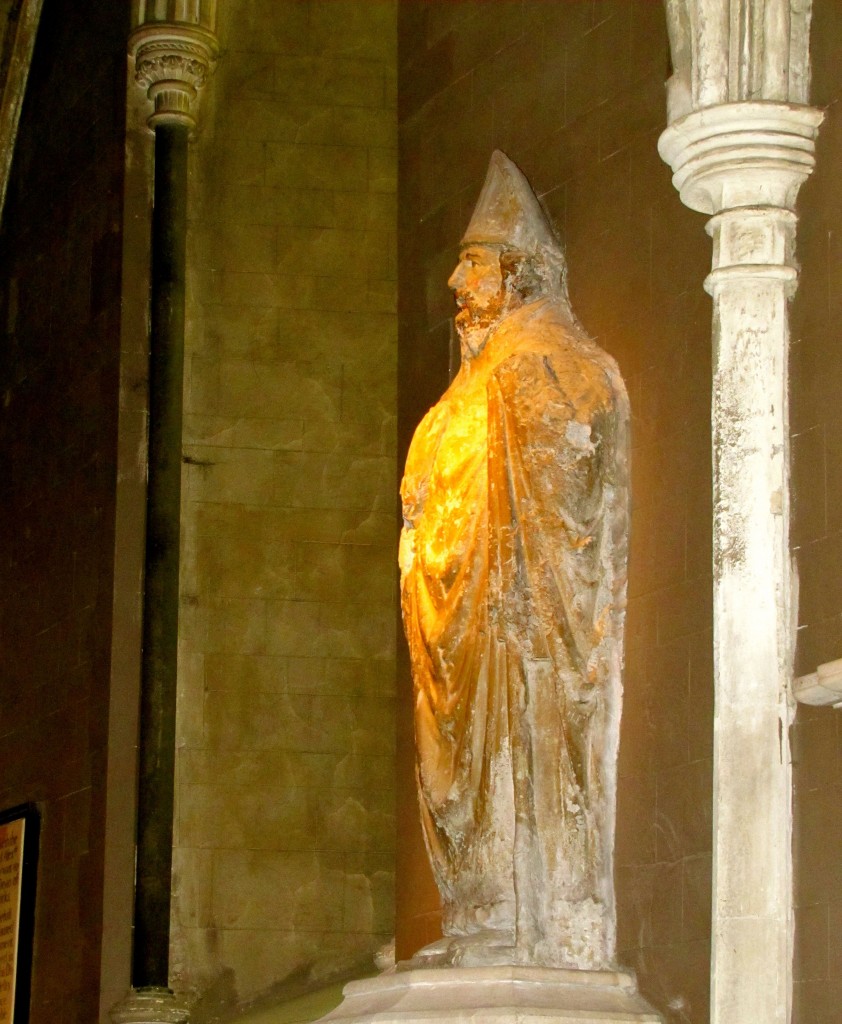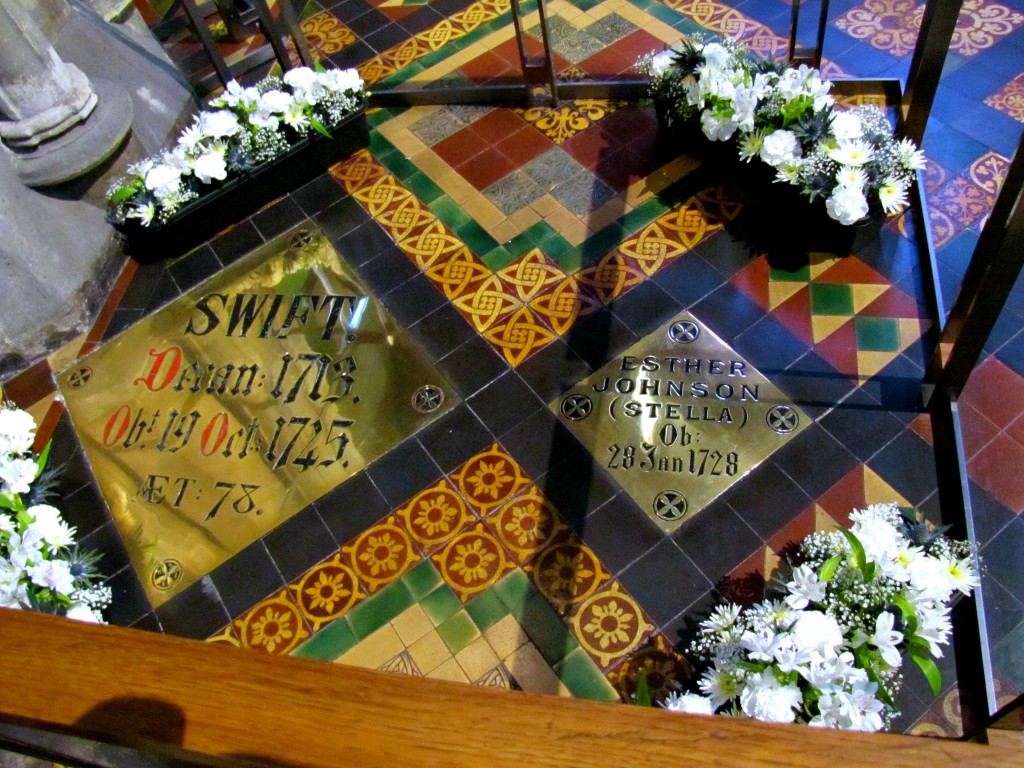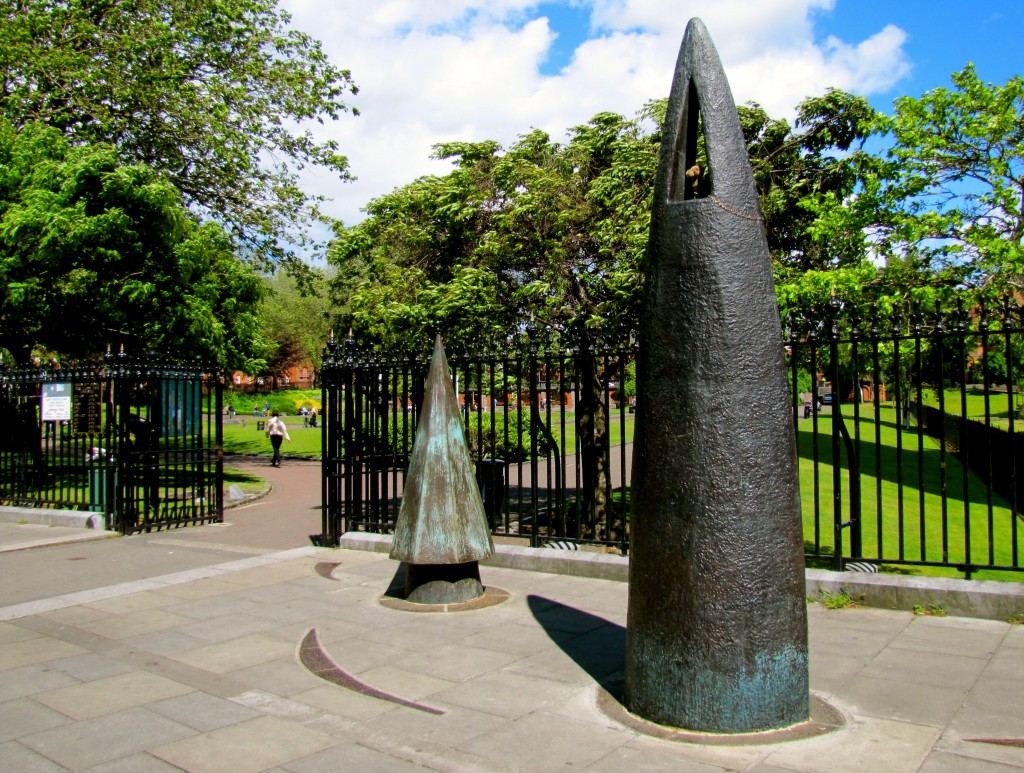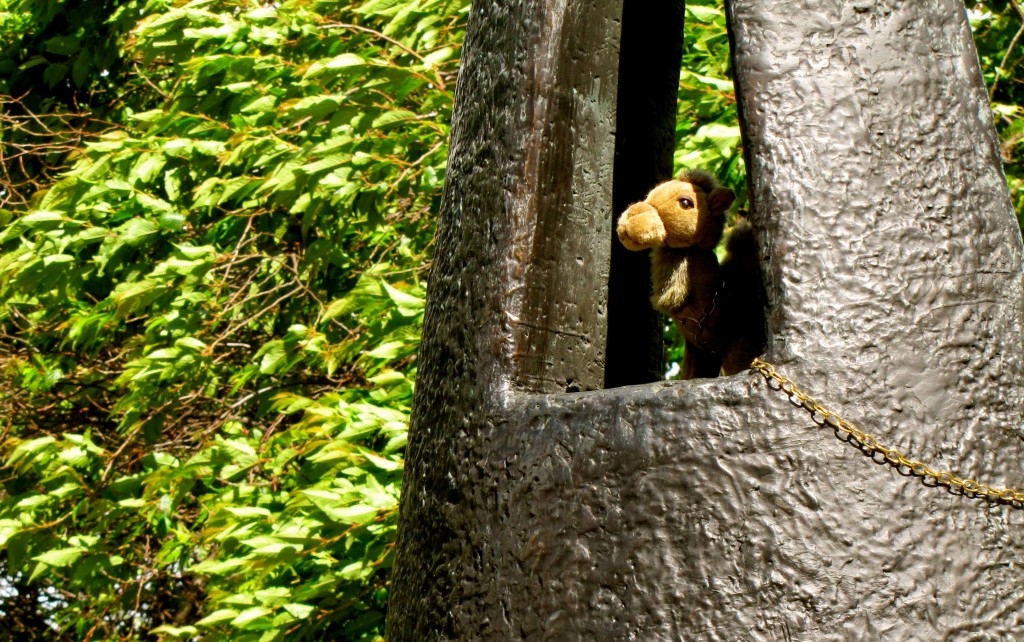 After St. Patrick's, I walked back up to Christchurch, took a left, and came to St. Audoen's in a couple of blocks. I'd seen St. Audoen's before, at night, on the Ghost Bus tour last trip. It's the oldest continuously operating parish church in Dublin.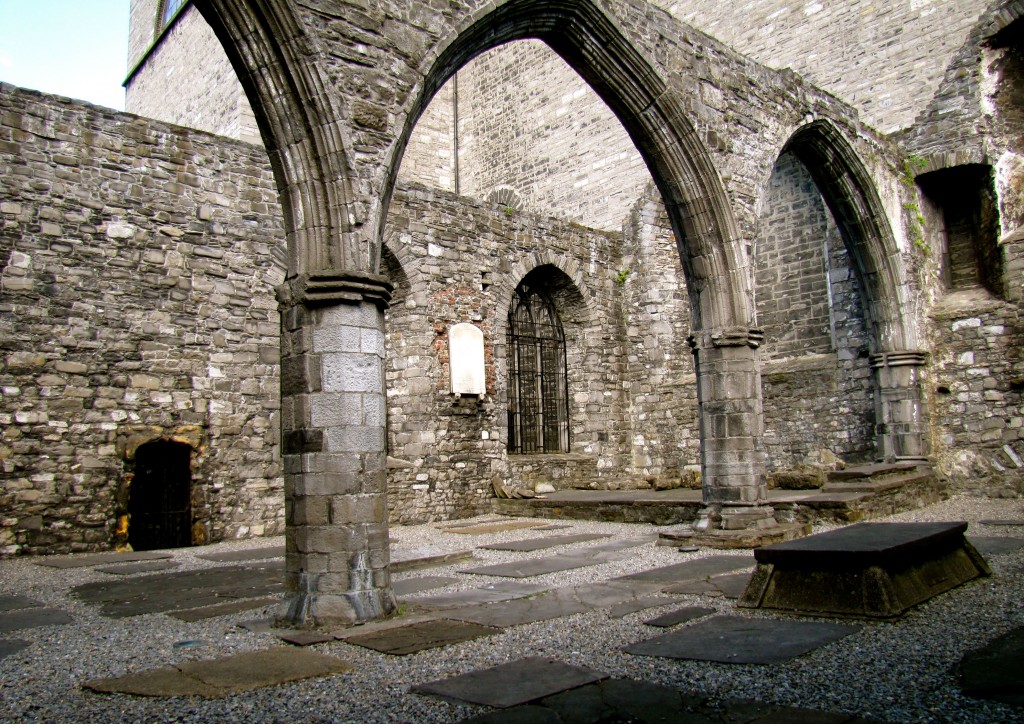 It was getting late in the afternoon by that point, so I made my way along the Liffey to the Brazen Head, where I was going to be attending a dinner with some storytelling and music. I got there early, so I had a drink in the oldest part of the oldest tavern in Dublin, drinking where Vikings drank in the 12th century. And, of course, my picture of that part didn't turn out at all.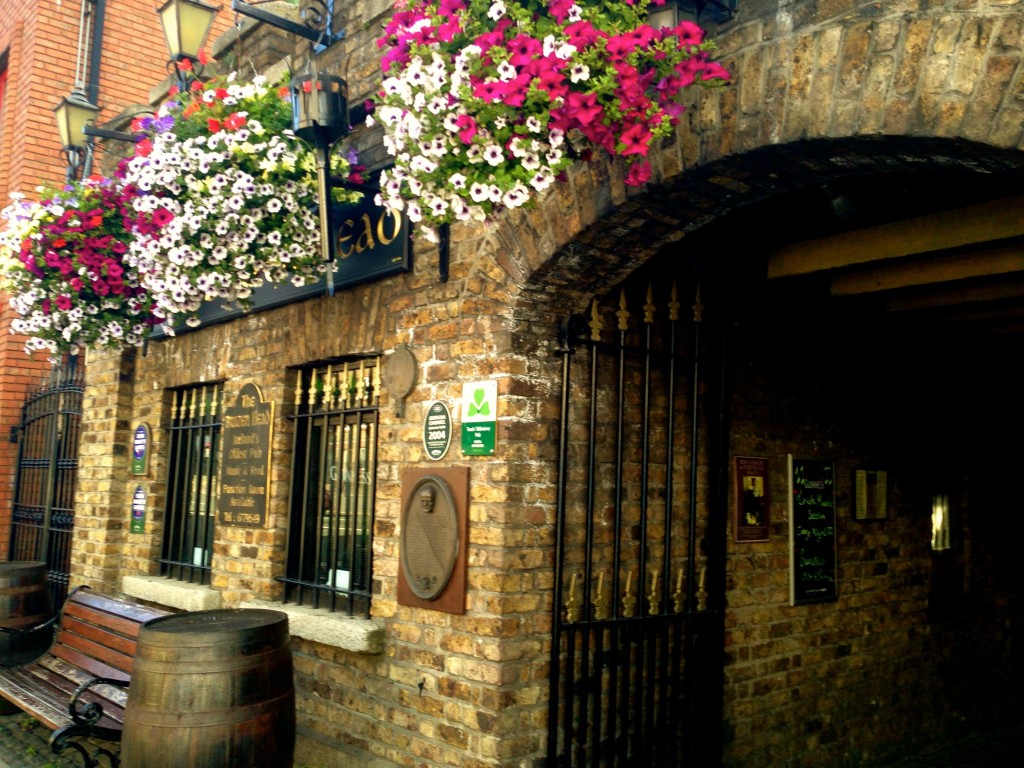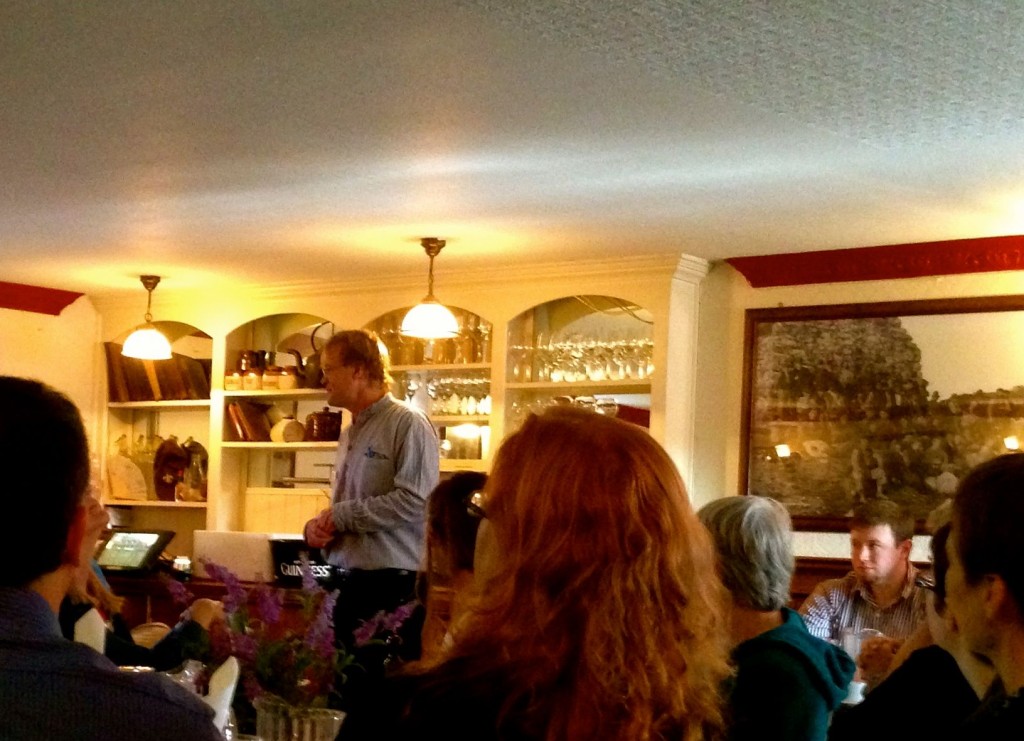 And then it was ten o'clock, and I made my way back to the B&B. Next morning, I wanted to get to the airport in good time, and spend an hour or so in the Aer Lingus business class lounge, doing up this post.
Well, it didn't work out. After security, which was very busy and rather slow, I had to go through US Customs preclearance, which was even slower and busier. I made it through that, eventually, and then had to go through a second security screening – again, very busy and slow. At that point, I was nowhere near the business lounge, and there was only about forty minutes before my plane; this out of the three hours I had budgeted.
On the flight back, I sat beside a lovely woman named Joanne, who just happened to have written a paper on an important 16th century play back in 1975 or so. It was being staged for the first time in 450 years, and she had been invited by the university to attend, as her paper has for years been the definitive work on the subject. We had a great conversation covering history and politics and the women's movement in the 60s and 70s and lots of other things. It was absolutely delightful.
And then I was in Chicago, and got sent to the wrong gate, and almost missed my plane back to Winnipeg. I was tired and frustrated and grumpy, having been up for about 22 hours straight, and I was very glad to make it home.
And that's it for this trip. I'm already starting to think about the next one.
It's not really first. I've already put laundry on, dealt with some e-mail, and gone out to busy some bread. But still. [↩]
86, they told me this time. I really don't know what this obsession is with counting them. It only makes things worse. [↩]