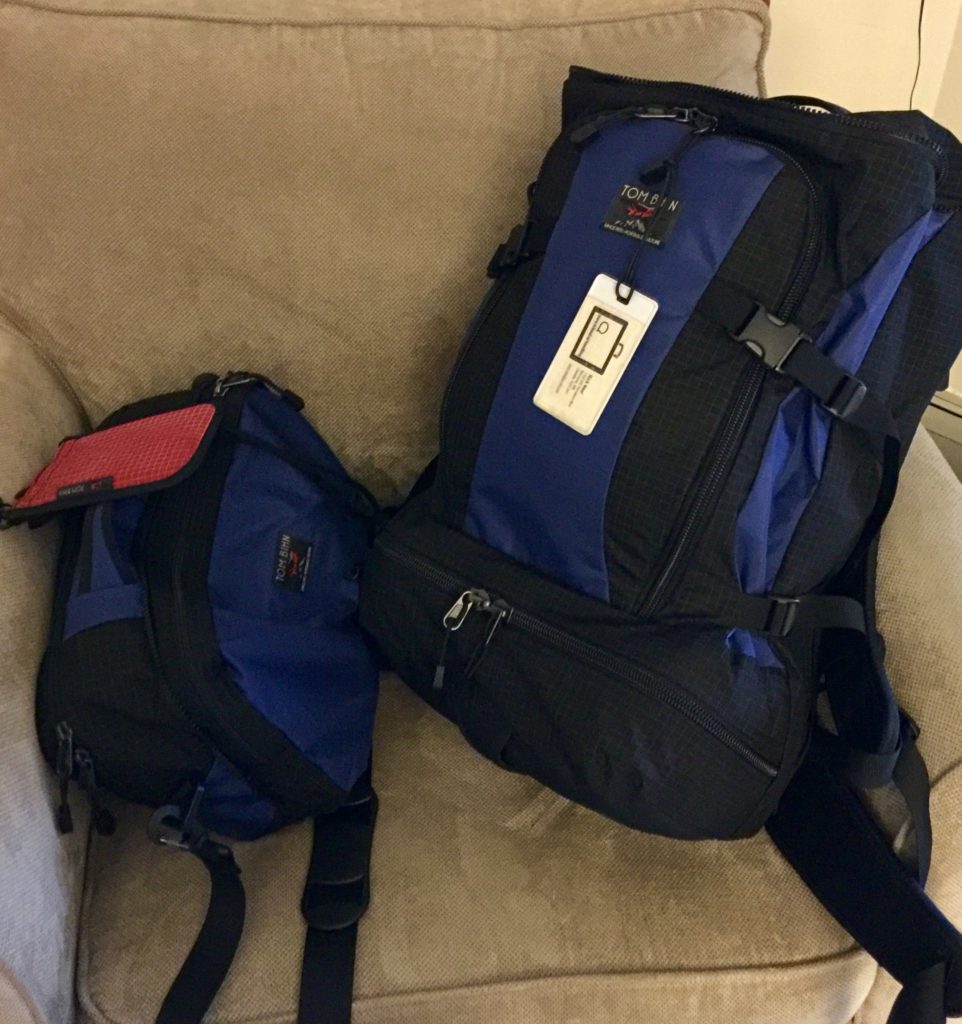 Over the last week, I got all my errands run and all my packing done. My luggage choice this trip is the Hero's Journey from Tom Bihn. It's a backpack with a detachable shoulder bag – the main backpack is about the size of my beloved Aeronaut, but is designed kind of from the other direction, as a backpack that can be converted to a shoulder bag or duffel, rather than a duffel that can be used as a backpack. The backpack is about the maximum size allowed by most airlines for carry-on, and the detached shoulder bag is about the perfect size for your personal item. Once off the plane, I was able to zip the two together, and wear it as a large backpack.
So, I managed to get everything for three weeks packed, and still was able to lift it. And wear it that way for an extended time1.
And then, yesterday morning, I got into the taxi to the airport, and the adventure began!
Of course, the flight to Toronto was delayed, but only by about 20 minutes. Headwinds, apparently. I believe that, because even though we left 20 minutes late, we were only 4 minutes late getting into Toronto.
And that's when I realized how spoiled I've become with online check-in for flights. Instead of just heading right for security, I got to try and find the Aer Lingus counter, and then wait for two hours before the counter opened. And there were maybe five whole chairs in the entire check-in area. The hate for the backpack weight started then.
But, I made it through that, made it through security, and made it to the lounge, where I planned to wait for the flight to Dublin.
Unfortunately, there were several people in the lounge who seemed to be competing in the Loud Important Business Person of the Year Award, in about three different, braggadocio-laden conversations. After about an hour and a half, I decided to go down to the gate to get away from it, and found that the flight had been delayed by an hour.
Sitting down there, surrounded by other loud people, including what seemed to be a class tour of very excited teenagers. And I still preferred the noise they made.
But we got on the plane at last, and off we went. And I had a nice dinner, and got about three hours of sleep2. For those of you trying to do the math at home, we landed at what for me was around 1:30 am.
And then we sat on the tarmac for 90 minutes, because we were late leaving Toronto. I didn't mind it all that much, but I had a comfy business-class seat and no connecting flight to catch. Other passengers3 were not as sanguine about it all.
Of course, we made it in to the airport, and I took advantage of the Revival Lounge to have a shower and some orange juice.
Then I caught the Airlink bus into central Dublin. I wanted to get some stuff at the Lush store there, and get a local sim card for my phone. The helpful fellow who sold me my ticket told me that the bus would drop me off on College Green, just around the corner from Grafton Street, where Lush and the phone shop I wanted were.
He was right, but my memory of Dublin is not what I thought it was. While Grafton Street was literally right around the corner, I turned the wrong corner getting off the bus. And spent over an hour wandering around, failing to find any of the landmarks I remembered. When I found that I had inadvertently circled right back to where I started, I realized that I needed help, so I went in to the tourist office there and asked for directions.
And they told me that Grafton Street was literally right around the corner. The moral of this story is that I shouldn't trust my brain.
So, I got the stuff I wanted, and took a cab to Heuston Station to catch the train to Kilkenny. By the time I got on the train, I was starting to fade. I spent the train ride nodding off, trying not to sleep through my stop.
Being so sleepy, when I say we were going through Athy, I got the song Lanigan's Ball stuck in my head. Right up until we went through Carlow, and I got Follow Me Up To Carlow stuck in my head. But all I could think about when we got to Kilkenny was the Cats of Kilkenny rhyme.
I planned to take a cab to the hotel, but there wasn't a cab at the train station, so I walked. Every step of the way, I kept telling myself that this was how I got lost in Dublin. And I told myself that right up to the moment I got to the hotel
The moral of this story is that I should trust my brain.
Checked in, and got to my room, and there was no electricity. Tried all the outlets and all the switches, then went down to the desk to tell them. And learned about this:
And now I've done up this little blog post, and haven't fallen asleep, so I win. I don't want to go to sleep too early, because I need to get on the local schedule, so I'm going out to a pub tonight for some dinner and music. Matt the Millers is nearby, and apparently has live traditional music starting in about half an hour.
I made it to Ireland!
Though, even with the planning and testing, I knew that I'd be hating the weight of the thing by the end of the first day. Spoiler: I was right! [↩]
Flight was about six and a half hours, and take-off and dinner service took about two hours, then they woke us up about an hour before landing for breakfast. [↩]
And, indeed, the flight crew, who were understandably ready for their day to be over. [↩]