Well, my plans for today fell apart.
I missed the bus from Dublin to Cashel by mere seconds this morning – I watched it pull away from the station as I was scurrying to make it to the gate. Not a big deal, it just put me behind a little bit. All it meant was that I had to wait two hours for the next bus, and that would get me in to Cork a little later than I had intended, but nothing insurmountable.
See, the plan was to take the number 8 bus, which goes to Cork, but also stops at Cashel. I would get out at Cashel, take a couple of hours to go see the Rock of Cashel, and catch the next bus through to Cork. So, a little delay in the bus station wasn't a huge problem, though it was a bit frustrating. I did get a chance to watch this pigeon very fearlessly stalk through all the folks sitting in the bus station, looking for crumbs on the floor.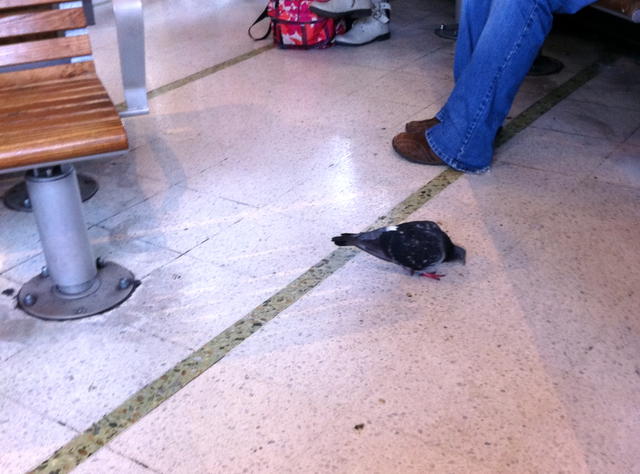 I was very determined to make the next bus, and did so with no problem. But about half an hour into the trip, I realized that there had been two number 8 buses, and that this one was the express bus to Cork City – it would not be stopping in Cashel1.
I had a momentary fit of disappointment, but then sat back to see the scenery2. And it was interesting scenery to see. A lot of it was very much like driving along the highways in Canada or the US3, with the trees pushing in fairly close to the road. But every so often, the view opens up to these marvellous hills and valleys and little towns and round stone towers4, and it becomes very obvious that I'm not in North America. I didn't get any pictures, because I was on a moving bus, and they would all be crappy, but it was a beautiful drive.
I made it to Cork City at about the time I had planned when I thought I was going to get to stop in Cashel, which was okay. I've got an Irish GPS app on my phone, so it walked me through downtown Cork City to Garnish House, where I'm staying.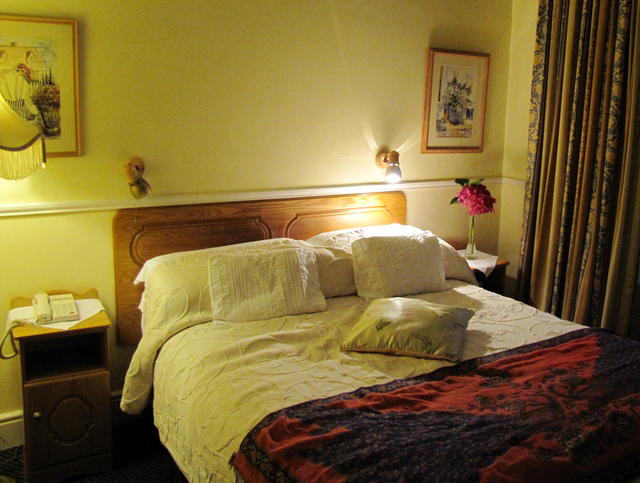 So, tomorrow is my tour of the Ring of Kerry. The nice folks here at Garnish House have told me where to meet it, and I should not have a repeat of today's failure. I should also have a lot more pictures tomorrow.
Tonight, I will wallow in my despair and get that out of the way so I can enjoy the rest of my trip.