Left London this morning, taking the train up to Oxford. I'm glad I splurged for the first-class train pass; the seats are very nice, the tables are great, and there are power outlets everywhere. The trip to Oxford is under an hour, but the trip to York will be longer, and then York to Oban, Oban to Edinburgh, and Edinburgh back to London are quite long trips. The extra perks will really tell on those legs.
I got to Oxford around 12:30 PM – everything fell into place on the trip, with me getting to the tube just in time for the train to Paddington, and then got to Paddington just in time for the train to Oxford. That was nice, but it meant that, by the time I walked to the hotel on Broad Street, I was starving, as I hadn't eaten yet.
After checking in, I unloaded my bags in my room, and went for a wander to find some lunch. Hunger being what it was, I didn't look too far before stumbling upon a Burger King. Not a traditional English meal, but man, it was just what I needed then.
Then I took a stroll around the shopping district, just looking at stuff. At around 5:00 PM, I went back to my room to rest and read before the Ghost Walk tour. About a half-hour before the tour, I walked across the street to the start point.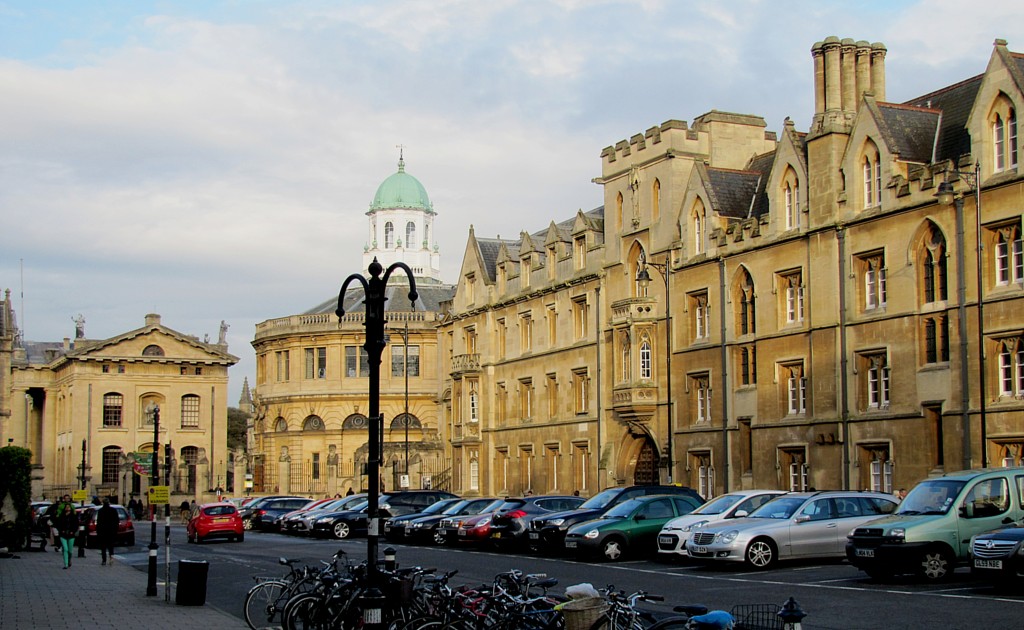 There were only four of us on the Ghost Walk tour1, which is the minimum number for the walk to run. It started raining part way through2, so I didn't get a lot of pictures.
Tom, our guide, was a great storyteller, and told some interesting stories. One that surprised me was the tale of the St. Scholastica Day riots – where the townies and the students went to war against each other, resulting in 30 dead townspeople and 63 dead students.
My favourite story, though, is about Cuthbert Shields. Now, I can find no record of this tale on the Internet, but that's why I go on these trips, right? To hear the weird history that doesn't get reported elsewhere.
Anyway, Shields was an historian at Corpus Christi College. He had previously been known as Robert Laing, but changed his name after his behaviour3 landed him in an asylum, and then forced him to spend many years traveling the world. He came back to Oxford around 1888 or so, and stayed there until he died in 1908.
He left behind a strange bequest to the college: a sealed silver box with a ribbon tied around it, and instructions that it not be opened until 50 years after his death. The college honoured his wishes and, in 1958, the librarian, assistant librarian, and warden of the college opened the box.
Inside were scores of Nostradamus-like predictions, carefully arranged and written, chronicling the years since his death.
They were all dead wrong.
The story goes that the Shields's ghost attended the opening and seemed very disappointed.
Anyway, that's my first glimpse of Oxford. Another walking tour tomorrow, where I'll get to see more of the colleges and stuff.
Now, to bed. Good night, all!
Five, counting the guide, Tom. [↩]
Of course. [↩]
Unspecified by Tom, but apparently spelled out in his five-volume autobiography. [↩]